If you're like most people, you probably have a few childhood toys stashed away in a box somewhere. Maybe it's time to dig them out and see if they're worth anything! 
There is no doubt that collectors are willing to pay big bucks for rare and vintage toys. In many cases, these items hold sentimental value for the collector, and they are often willing to pay a premium in order to own a piece of their childhood. 
Fortunately, at Sell Your Toys Now, we make it easy to get your valued collectibles into happy homes — and easier still to get extra cash in your pocket! Use our
simple 3-step process
to start earning returns on your investment.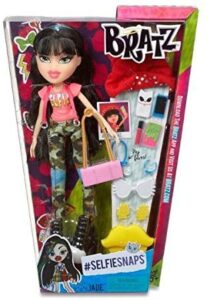 Is it Worth it to Sell Bratz Dolls?
Yes, there are collectors who are willing to pay top dollar for items that are difficult to find. Whether they're interested in Bratz that are no longer in production, or they're on the hunt for the ones they love the most, there is no doubt that collectors are willing to pay big bucks for collectibles!
What are Bratz Dolls?
Bratz are a line of dolls that were created by Carter Bryant. The first line of dolls, consisting of four personalities (Cloe, Jade, Sasha, and Yasmin), were released in 2001. 
The dolls are marketed to pre-teens and teenage girls, and are known for their large eyes, heavy makeup, and stylish clothing. Currently, a complete collection of Bratz dolls can fetch a pretty penny. 
A collection of just the original four can go for hundreds of dollars, and that doesn't even include the large variety of different outfits that have been made. Therefore, it's easy to see why people are willing to spend so much for these stylish dolls. 
Is There a Market for Vintage Bratz?
Yes, in spite of being a brand that is barely over 20-years-old, there is a significant market for original Bratz. This is particularly true if your dolls have been well preserved, preferably in their original packaging, and ideally in mint condition.
How Do I Know if My Collectible Bratz is Valuable?
Fortunately, this is an easy question to answer! In fact, there are two convenient, efficient, and reliable options for determining the value of your Bratz collection.
First, you can utilize our handy
Custom Quote Generator
to search your Bratz doll by UPC or the name of the toy. With this tool, you can submit a list of your collectibles, and we'll contact you with the quote.
Alternatively, if you prefer a more personal touch, you can call us! Often, with nothing more than a simple phone call, you can learn how much you could earn for your Bratz collectibles.

Sell Your Collectible Bratz Dolls at Sell Your Toys Now
Freeing up space, earning a little extra income, and re-housing your beloved Bratz has never been easier. At Sell Your Toys Now, we pride ourselves on empowering people to make the most out of their collection.
So if you find yourself in need of collectors to take your vintage dolls off your hands, then you're in the right place. To sell your Bratz dolls online,
reach out to our team
today.