It's hard to believe that it's been more than 45 years since the first
Star Wars
film
was released in theaters. So, if you're still holding onto the toys from your childhood that you just can't seem to let go of, then now is your chance! 
At Sell Your Toys Now, we accept all types of
Star Wars
toys, such as action figures, vehicles, games, and more. We are an online marketplace for people who have unwanted items sitting around their house and collecting dust. 
Whether you want to earn extra cash or re-settle your collection in a loving home, we can help. So don't wait any longer — sell your old toys today!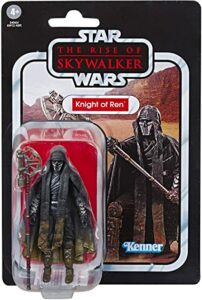 What is the Best Way to Sell Old
Star Wars
Collectibles?
The best way to sell your vintage
Star Wars
action figures
is to find a reliable collectibles dealer that can provide market value for your collection. As many first-time sellers soon realize, it can be overwhelming sorting through your options.
Some vintage collectibles dealers may seem like a good fit, but require a complicated, multi-step process before you ever see your money. At Sell Your Toys Now, we believe that selling old
Star Wars
toys online should be as fun as buying them. 
We created
a 3-step process
to maximize simplicity and be the best place to sell your
Star Wars
toys. The easier the selling process, the less it feels like work to earn some extra money.
How Can I Sell My
Star Wars
Collector's Items Online?
There are two reliable solutions for how to sell your vintage
Star Wars
toys. For your convenience, you can choose to start the process online or over the phone. 
Often, we're capable of determining the value of your collection from a quick phone call. This tends to be the preferred method for those who want a personal approach.
Alternatively, you can also refer to our
Custom Quote Generator
to find the value. This empowers you to optimize your selling experience to fit your schedule.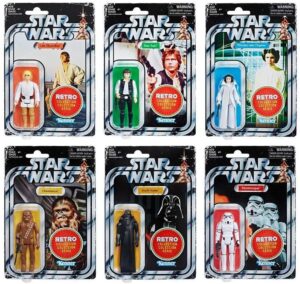 Which
Star Wars
Collectibles are Worth Money?
It may come as no surprise, but the most valuable vintage
Star Wars
collectibles are those that come from the original run in the 1970s. Although there are a few more recent toys that would make a "most valuable" list, the top selling
Star Wars
toys tend to be those that were made for
A New Hope
.
Of course, when it comes to vintage collector's items, there are variables that can impact value. The most important variable can be remembered as "NRFB" — Never Removed From Box.
The best selling
Star Wars
toys are those that are in mint condition and have never been removed from their original packaging. If you have some sitting in your home, it may be very worthwhile to contact an expert, like Sell Your Toys Now.
Will
Star Wars
Figures Go Up in Value?
Star Wars
continues to captivate the public audience. The longevity of the franchise suggests that collectible Star Wars action figures will continue to appreciate in value.
Sell Your
Star Wars
Action Figures at Sell Your Toys Now
At Sell Your Toys Now, we can help you to earn the return on investment you've been waiting to receive. To start earning extra cash with your collectible
Star Wars
toys,
reach out to our team
today.