Some things instantly bring the Christmas season to mind: carols, pine trees, and cold weather, to name a few. For many, the iconic white-and-green design of the collectible toy trucks from Hess Toys makes the top of the list.
The Hess Corporation has been producing these legendary collectibles since the 1960s. 
When Speedway acquired the company in the mid-2010s, they continued producing these highly prized collector's items for another generation. 
Unfortunately, the Hess toy truck program was discontinued in 2021, when Speedway was acquired by 7-Eleven. The bright side is that the end of production, coupled with the long lifespan of the program, makes it valuable for anyone looking to sell their vintage Hess truck collection.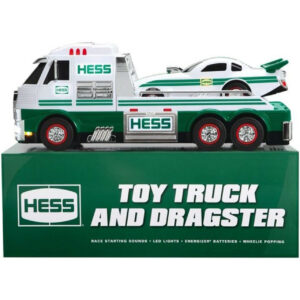 Is "I Want to Sell My Hess Trucks" a Familiar Thought?
Do you find yourself frequently asking yourself "where can I sell my Hess truck collection?" Fortunately, you're in the right place. 
At Sell Your Toys Now, our priority is to empower you to take control of the selling process. It can be overwhelming to research the best places to sell your vintage collector's items. 
With an abundance of choice, it's often difficult to determine the ideal collectibles dealer for you. Some dealers have competitive offers, but then require a series of complicated hoops to jump through — but why waste your time with that?
Where to Sell Hess Trucks 
At Sell Your Toys Now, we believe that selling your Hess trucks shouldn't feel like a second job. You've held onto your collections for years, resisted the temptation to open the packaging, and you've kept them away from sunlight and moisture — you've done your part. 
This is why we developed a simple, 3-step process for optimizing the experience to your schedule. Whether you prefer the sound of a human voice or the convenience of an online solution, we have what you need.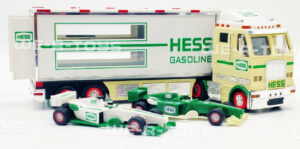 How to Sell Hess Trucks 
To make this as enjoyable as possible for you, we let you control the entire process. Often, we find that a simple phone call is sufficient for determining the value of your vintage Hess collectibles.
For those who prefer to keep things in their own hands, our online Custom Quote Generator places the power at your fingertips. Once a quote is agreed upon, we'll provide you with shipping labels so that you can send your collectible Hess toy trucks at no cost to you.
Within 2 business days from the time we receive the package(s) at our warehouse, your money will be on its way. The process for selling your vintage Hess collector's items couldn't be any easier.
How Much Do Hess Trucks Sell For?
It depends on several factors, such as the condition of the individual items, but it may be possible that some of the most rare, collectible Hess trucks are worth thousands of dollars. To ensure that yours hold their worth — and potentially appreciate — you should keep them in their original packaging and store them securely.
Sell Your Hess Toy Trucks Online at Sell Your Toys Now
At Sell Your Toys Now, we can help you earn extra money from your long-held collectibles. For help selling your vintage Hess toy trucks, reach out to our team today.