Monster High
dolls were launched by Mattel in 2010, and quickly became popular for their line of characters inspired by classic monster movies. In spite of their short time on the market, these toys are beloved by collectors for their quirky, lovable take on collectible dolls.
Each "monster" and "ghoul" is closely related to monsters from popular fiction. This makes them surprisingly original for dolls that may also cause nostalgia in any classic horror movie fan. 
While the franchise continues to be popular, many collectors may be looking to re-home their collection. Fortunately, at Sell Your Toys Now, we've got you covered.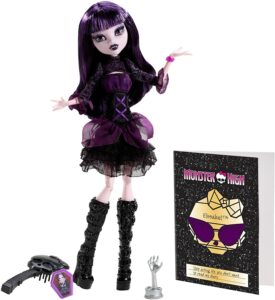 Selling
Monster High
Dolls Online
Selling your
Monster High
dolls online can be an arduous task, especially if you aren't looking for a second job. Finding collectors who will care for an item, negotiating their offer, packaging them safely, paying shipping costs — the tasks add up.
It becomes a bit of a second job to keep track of the market. This is particularly true if you want to unload several items at once, such as complete sets.
Collectors who are looking for specific dolls may not be interested in package deals. At Sell Your Toys Now, however, you stay in control of the
simple, 3-step selling process
.
Do They Still Sell
Monster High
Dolls?
Yes! Mattel still sells new
Monster High
dolls. In fact, the entire franchise will bring new content and products in 2022. 
However, for many fans, nothing will top the
Monster High
Original Ghouls. The brand's popularity means that anyone holding onto any of these six may be able to earn some extra money.
How Much Do
Monster High
Dolls Sell For?
The value of one of these dolls can depend on many factors, such as the character, the age of the doll, and condition. In fact, that last may be the most important factor within your control.
If you have any dolls to sell, you'll want to ensure you take extra care to maintain pristine conditions. Never remove the collectible from its original packaging, and store it in a cool, dry place away from direct sunlight.
That way, when you call us for a quote, the only variables that can make a difference are those that are outside of your control. For example, this might include the current market demand for the specific character.
Best Selling
Monster High
Dolls 
Some of the most popular
Monster High
dolls include:
Exclusives from San Diego Comic-Con (like Black and White Frankie Stein!)

Playsets and Starter Sets

The 6 Monster High Original Ghoul Dolls (of course!)
 
Sell Your
Monster High
Collection at Sell Your Toys Now
The truth is, it doesn't need to be a pain to offload your
Monster High
doll collection. You can get a quote from us in one of two hassle-free ways:
online
or over the phone.
Remember when we complained about shipping costs? Well you won't have to, because we'll send you the labels. 
Free up a little space or earn some extra cash. To learn how Sell Your Toys Now can help you do so by selling your original
Monster High
dolls,
reach out to our team
today.