Where Can I Sell My Steiff Bears? Explore Sell Your Toys Now!
Relax and think of the summer––smell the salty sea? Envision an endless beach? This is what summer means to many, but for some of us? The summer means editing our stockpile of toys. Steiff Bears are some of the most sought-after collectibles in the world and are loved by many toy enthusiasts, children, and famous brands like Disney.
In 1902,  Richard Steiff created the mohair Bear 55PB teddy bear. He was inspired by American President Theodore Roosevelt, who once hesitated to kill a bear on a hunting trip. Richard Steiff then coined the term "Teddy Bear."
Cartoonist Clifford K. Berryman depicted the famous presidential hunting trip and then printed it in the Washington Post. This became the ideal advertising for Richard's Teddy bear––the Teddy Bear and the Steiff brand earned international fame.
Yes, you could definitely say the Steiff Bears were the first teddy bears!
Throughout several decades, thousands of Steiff bears have been created for both adults and children––from a Fourth of July Uncle Sam bear to a tomato bear! 
Have you ever wondered where you could sell your Steiff Bears?
Are you like millions of toy collectors, wondering where you can get the best prices for Steiff Bears to sell? Well, your search ends now––you've found the best place!
We strive to give you as much control over the selling process as possible at Sell Your Toys Now. Finding the greatest antique markets may be challenging, but we love making things simple.
As a result of so many options, choosing the best collectibles dealer or even the highest bidder might be difficult. Although some buyers may provide appealing offers, meeting their rigid requirements might ruin the adventure and strain your finances.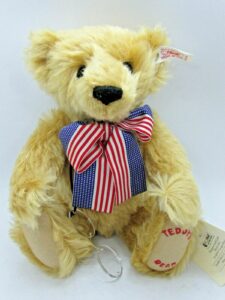 Where to Sell Steiff Bears
Sell Your Toys Now wants to make selling your Steiff Bears easy so you don't have to treat it like a major project. In most cases, half the work is already done just by storing the box in a cool, dry place for several years.
To meet your various needs, Sell Your Toys Now has designed a trusted three-step procedure no one else has. Whether you prefer a personal touch or to conduct business online, we deliver a unique experience.
Buy and Sell Collectable Toys
To make sure you enjoy the process, skip the hassle, and have control, we give you the reins. Most of the time, all it takes is a quick phone call to determine how much your Steiff Bears are worth.
Our Custom Quote Generator lets you find your item and its value in seconds. You can then negotiate prices to your liking. After a purchase has been confirmed, we'll print all your free shipping labels so you can send off your cuddly Steiff Bears painlessly.
We commit to sending your money within two business days of receiving your package(s) at our warehouse. Selling Teddy bears for the highest possible price has never been simpler.
It's no secret that Steiff Bears are worth hundreds and thousands of dollars––if you have a Steiff Bear of any kind, it can bring in a pretty penny. Like most plush toys, how long Steiff Bears last is tied to how well they are cared for and what kind of state they are in. It's more possible that yours will preserve or rise in value if you've retained them in their original packaging and kept them secure––even Steiff Bears that are obviously used sell for a great value sometimes.
The Best Place to Sell Your Collectable Toys
At Sell Your Toys Now, we turn your collection into cash. Reach out to our team today to sell your Steiff Bears and turn vintage into value!
Written by: Cherilyn Lankin
Where Can I Sell My Steiff Bears? Explore Sell Your Toys Now!