First launched in March of 1959, Barbie has become one of the most recognizable fashion doll lines on the planet. Given this popularity and long lifespan, many people are rediscovering their own collections of vintage dolls.
With these discoveries come the realization that these collectibles just may represent your very own investment! Now all you have to do is find a reliable and efficient way to earn your just return on that investment.
Fortunately, at Sell Your Toys Now, we have significant experience with buying, trading, and selling classic Barbie collections. This means that we're perfectly positioned to help you determine the value of your dolls.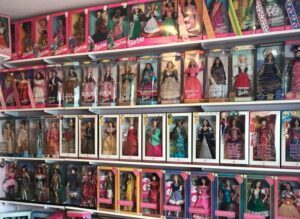 How Much Can I Sell My Barbies for?
As you can imagine, the answer to this question is complicated. In fact, there are many factors that can cause the value to vary between similar items.
First, a Barbie that is sold in its original packaging will always earn more than one whose packaging has been tampered with. Fading or defects that are caused by exposure to light and/or water will also impact the final selling price.
Therefore, to maximize precision when determining how much your item is worth, we recommend that you reach out to us for a competitive quote. You can call us, or you can manually find the value of your collectibles with our Custom Quote Generator for Barbie Dolls.
Custom Quote Generator for Barbie Dolls
You can find a diverse selection of Barbie dolls, from an expansive range of classic series, on our custom quote generator. This innovative tool simplifies your seller's journey by allowing you to place your collectibles in a shopping cart, and to do so in the appropriate quantities for each.
Do you have 3 of the 1988 Happy Holiday Barbie Doll? Then type three in the appropriate field, and click the 'add to cart' button.
You can submit your quote cart directly to us, and we'll respond with a quote for each of your submissions. That way, you're already on the first steps of the selling process, empowering you to move to the next steps seamlessly.
How Can I Sell My Barbie Dolls?
As we mentioned, you've already taken the first step by acquiring a quote. Once you're ready, you can mail your Barbies to our warehouse using the shipping labels that we provide.
Please remember to package your items securely. Within 48 business hours, we'll have your collectibles processed in our warehouse and your money is on its way.
You can choose whether you receive a direct deposit, or a check via the mail. Our simple, 3-step process leaves you in control of your experience.
Sell Vintage Barbie Collectibles at Sell Your Toys Now
If you've recently discovered a collection of classic Barbie dolls, then it makes sense that you want to know what they're worth.
The professionals at Sell Your Toys Now have decades of experience, so we can help you to keep the process simple, safe, and profitable.
To discover what your Barbie dolls are worth, contact our team today.
How Much Can I Get for My Barbies?