Star Wars creator George Lucas was given 100% of the merchandising rights for his genre-defining, sci-fi classic. As we'd quickly discover, this would prove to be a costly mistake, as the series would go on to spawn a dozen feature films, several television series (both animated and live-action), and nearly infinite varieties of merchandise and collectibles.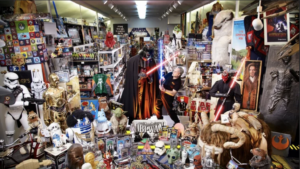 Of course, where shortsighted investors missed out, vintage toy collectors were quick to recognize value. All over the world, people kept their collections stored safely as they waited for their investment to appreciate.
If this is you, then you're likely in need of a reliable team of buyers to empower you to quickly, efficiently, and profitably liquidate your investment. Fortunately, you're at Sell Your Toys Now, so you're already a step ahead of many.
Which Star Wars Collectibles are Worth Money?
With millions of different toys produced over the last 5 decades, there is an abundance of collectibles that may demand a hefty return on your investment. However, there are also several variables that can impact the value of your collection.
First, you must determine the value of the specific model, year, and variant that you own. From this baseline, the amount you can earn is dependent on the condition of your specific collectibles.
If you've kept your vintage Star Wars toys in their original packaging, and stored in a dry environment and out of direct light, then you're maximizing your earning potential. You can determine the value of your collection by calling us, or you can search for the value of your collectible on our Custom Quote Generator.
How Much are 1970 Star Wars Figures Worth?
As mentioned above, the value of a specific collectible is dependent on many factors, so it's difficult to accurately estimate what you may be able to earn. 1970 Star Wars collectibles that are in optimal condition are said to earn thousands of dollars, but again, these values can only be used as a general guide.
How Do I Sell My Star Wars Collection?
This one is easy: you can make extra money off of your classic Star Wars collection by selling your Star Wars toys online. Once we provide you with a quote, you can send your toys to our warehouse using the shipping labels that we provide.
Please remember to package them securely. Within 48 business hours from the time of receipt at our warehouse, your money is on its way.
You can opt to receive a check by mail, or a payment through direct deposit. Our simple, 3-step process enables you to remain in control of the entire seller's journey, so that the process is nothing if not swift, efficient, and worthwhile.
Sell Your Vintage Star Wars Collectibles at Sell Your Toys Now
At Sell Your Toys Now, we have a collaborative spirit and decades of experience with collectibles.
We can help you to make extra money off of your Star Wars collectibles, so you can free up space in storage or on your display.
To learn more about selling vintage Star Wars merchandise online, reach out to our team today.
What is Your Star Wars Collection Worth?