5 Most Expensive Toys — Ever! — in the World
Toys often test the challenge of time and see their value increase over the years, if they are preserved properly. Some toys end up becoming more valuable or rare than others as a result.
Toys become more valuable as they grow older in age while maintaining a level of integrity and are preserved properly. The condition and materials are big factors, but sometimes it is in the eye of the beholder to determine an item's worth.
It can be difficult to determine the most expensive toys, but not impossible. Sell Your Toys Now! makes getting a quote easy on any collection or product you may have.

With these five toys, you may not need our custom quote generator to unlock a quick and easy payment. Each of these products hold a title of one the world's most expensive toys.
5. Shimansky Soccer Ball
Back in 2010, jewelry designer Yair Shimansky spent three months creating the most expensive soccer ball that would never see a soccer field.
The Shimansky soccer ball was created to celebrate the 2010 FIFA World Cup.
It's made from 6620 white and 2640 black round diamonds, with its value sitting at $2.5 million.
4. Lamborghini Aventador Model Car
This is no ordinary model car. In fact, it could be argued that the real version of this toy is actually cheaper!
Former engineer Robert Gulpen created the model using threads of solid gold, carbon fiber for the body, and gold and platinum rims and interior. It truly is worth its weight in gold, as the car is worth around $4.8 million.
3. Madame Alexander Eloise
If you're looking for a doll that has nine carats of diamonds in it, the Madame Alexander Eloise doll is what you're searching for. Being valued at $5 million, the toy features Christian Dior clothes, Oscar de la Renta fur, and Katherine Baumann accessories.
2. L'Oiseleur
Also called "The Bird Trainer", this toy is a four foot statue of a young man dressed in garments lined with gold and pearls.
The cogs and gears within the structure allow the doll to play a song on a flute, making it an engineering achievement. The doll's price range is roughly around $6.25 million.
1. Astolat Dollhouse Castle
Cracking number one on the list is an $8.5 million dollhouse castle, and was designed by miniaturist Elaine Diehl.
Standing at nine feet in height with 10,000 miniatures and 29 rooms, the interior also features pieces made of silver and gold.
It's currently displayed in the Time-Warner Center at Columbus Circle in New York City.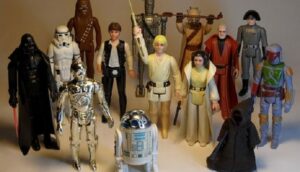 Sell Your Most Valuable Toys at Sell Your Toys Now
While it may not be in the same price range as a dollhouse worth almost $10 million, there are still plenty of collectors who are potentially sitting on items of great value. Fortunately, at Sell Your Toys Now, we pay you top dollar for your toys.
Our simple 1-2-3 process makes it easy for you to sell your toys, allowing you to be in control throughout the process.
Please visit our website and contact us, as we are happy to answer any questions you may have.
5 Most Valuable Toys of All Time!