Where Can I Sell Action Figures?
If you're an avid vintage action figure collector, you likely have a large collection of various items to offload. In fact, for many collectors, this hobby represents a long-term investment opportunity, so they're understandably excited to finally discover what they can earn.
After all, the action figure industry has grown and diversified immensely in the almost 6 decades since Hasbro first coined the term. From their own G.I. Joe action figures to the Marvel Legends Series, there is an abundance of different collectibles available to buyers.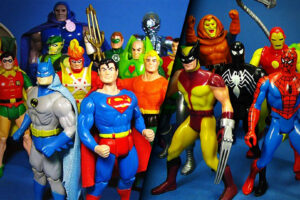 However, it can quickly become overwhelming for those who don't know where to even start. Fortunately, at Sell Your Toys Now, we have decades of experience with the vintage toy industry, so we're empowered to help you on your seller's journey.
Where to Sell Your Action Figures
As you might imagine, in a digital age, selling your action figures online is the most convenient and effective option. However, you can also facilitate an in-person sale, if you prefer.
Keep in mind that, while this requires much of the same effort as an online sale, there are also additional steps that aren't necessary with a digital transaction. For example, you'll need a safe place to exchange your collectibles for the buyer's cash, and this is particularly true when your buyer doesn't own their own storefront.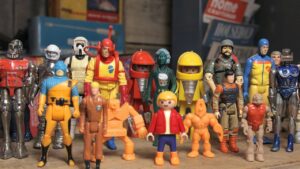 In truth, you're likely to turn to an online solution at some step in your journey, whether that is to find buyers or to receive payment. Therefore, it's generally advisable to start there in the first place so you can quickly find a team of buyers that you can trust.
Is There a Market for Vintage Action Figures?
Yes, there is a vital and thriving market for collectible action figures! As we mentioned, this industry boasts a rich history and an expansive catalog of products.
Moreover, many of these unique items were produced by the world's most beloved brands. Some claim that the action figure industry is in decline, but it also spikes with every new major film release.
This may actually hint at an opportunity for collectors. Sales spikes around popular IPs indicate the trends that may one day become collectibles, and any decline in production of action figures increases the value of vintage collections in the future.
How Do I Sell My Action Figures Online?
Easy. With our simple, 3-step process, you can quickly, comfortably, and efficiently sell your action figures online:
Determine the value of your collectibles
Send the collection to our warehouse.
Your payment is on its way within 48 business hours from the time of receipt at our warehouse.
Find a Safe Venue to Sell Action Figures in Sell Your Toys Now
There is a degree of safety and convenience that is offered by selling your collectibles online. It can be completed from the comfort of your own home, and it's much easier to conduct a greater amount of research (and in a shorter amount of time).
At Sell Your Toys Now, our passion is to enable you to capitalize on the expediency of a digital storefront or meeting place. To earn extra cash on your vintage action figure collection, reach out to our team today.
Where Can I Sell Action Figures?