Do You Know How Much Your Hot Wheels are Worth?
Are you a vintage toy collector looking to determine the value of your Hot Wheels cars? Hot Wheels toys are some of the most collectible and valuable toys out there.
From Redline Hot Wheels to modern models, there is an entire world of collecting and pricing for these miniature vehicles. In this blog post, the collectibles experts at Sell Your Toys Now reveal how you can determine the value of your Hot Wheels collection with accuracy.
What are "Redline Hot Wheels," what best practices maximize the value of your collectibles, and what is a Custom Quote Generator? Discover how much money you can earn from your vintage toy collections, below.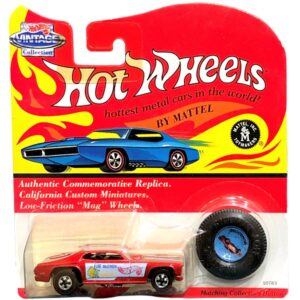 How Do I Know If I Have a Rare Hot Wheel?
When it comes to selling your Hot Wheels online, the most valuable models are Redline Hot Wheels. Redlines were produced from 1968 to 1977 and are easily identified by their distinctive red stripe around the tire's sidewall.
These cars were some of the first ever designed and released, making them highly sought after. In addition to being part of the original series, certain designs can also increase a car's value.
Some key characteristics to look out for include limited-edition releases, special themes or colors, or rare decals or stickers on the vehicle itself. Many of the most valuable cars are instantly recognizable.
The 3 Most Valuable Hot Wheels Toys
We won't provide a comprehensive list here, but these are the 3 most valuable Hot Wheels cars on the market:
1968 Hot Wheels Redline Python
1969 Hot Wheels VW Beach Bomb in Pink
2008 Diamond Encrusted Hot Wheels Car
1967 Hot Wheels Redline Python
As one of Mattel's original die-cast models, Redline versions of the Python can fetch up to $10,000 on the collectibles market!
1969 Hot Wheels VW Beach Bomb in Pink
Mattel released several variations of the VW Beach Bomb, but the pink buses are the rarest. These can earn anywhere from $80,000 to $125,000, depending on condition.
2008 Diamond Encrusted Hot Wheels Car
This collectible was produced to commemorate the brand's 40th anniversary. The 2,700 diamonds that cover this car are worth $140,000 on their own.
How Can I Find Out How Much My Hot Wheels are Worth?
The easiest way to identify the value of your Hot Wheel cars is to use our Custom Quote Generator. Enter the name of your toy, or its UPC, into the search box and find your car.
Add the proper quantity of each car into your Quote Cart and click the "Submit Quote Cart" button. Our collectibles experts will respond with your personalized offer within 48 business hours.
Earn Money from Your Hot Wheels Cars at Sell Your Cars Now
Hot Wheels toys have been popular among children and toy collectors alike for almost 60 years! This makes them valuable to anyone who's been maintaining their collection with patience.
To earn extra cash from your Hot Wheels toys, reach out to our team today.
How Much is Your Hot Wheels Collection Worth?