Sell Your Masters of the Universe Action Figures at Sell Your Toys Now
Action, vacations, and stress-free beach days are just a few of the elements that immediately conjure up images of the spring! But for a lot of us, building our toy collection during the season takes top priority. Countless toy fans have a soft spot for the iconic and heroic Masters of the Universe action figures, and it's some of the world's most collected action figures!
Mattel has made these renowned collectibles since 1982, and its popularity led to several spinoffs, including an animated series, comic books, and a hit movie. Demand for He-Man is still relevant today, as Netflix is hosting a new show streaming this year. 
For years, generations of kids and adults alike have had the opportunity to bring their exciting battles to life and raise their power swords.
Even in 2023, Mattel is still producing Masters of the Universe figures, with wave twelve coming sooner than we think. But what if you have He-Man figures from the past decades? You can still get a valuable price if you're looking to sell!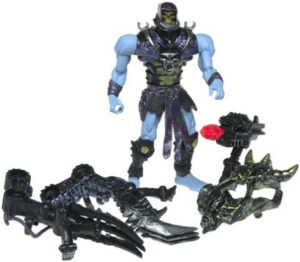 Does the Idea, "I Want to Sell My Masters of the Universe Toys," Sound Familiar?
Do you stare at your collection and wonder, "Where can I sell my Masters of the Universe collection?" and endlessly search the internet for information? Well, you've landed on the best site! Our goal here at Sell Your Toys Now is to give you as much control as possible throughout the selling process. Finding the finest markets to sell your antiques can be a daunting task, but we love making it easier.
The multitude of options also makes it tough to zero down on the best collectibles dealer or the highest bidder. Some buyers may have attractive offers, but in order to qualify, you'll need to jump through several complex hoops that can ruin the experience and make your wallet unhappy.
Where to Sell Masters of the Universe Action Figures
Our goal at Sell Your Toys Now is to make selling your Masters of the Universe action figures as easy as possible––you don't have to treat selling your Eternian figures like a second job. You might have already done half of the work by keeping the box closed for years in a cool, temperate area.
Sell Your Toys Now has developed a unique tried-and-true three-step process to cater to your specific requirements and preferences. Whether you prefer a personal touch or to do business digitally, we have a totally customizable experience.
How to Sell He-Man Toys
We put you in charge of the process to ensure you have a great experience, avoid the hard work, and stay in control. In most cases, a quick phone call is all that's needed to find out how much your MOTU treasures are worth.
Our Custom Quote Generator lets you quickly search for your item and find out what it's worth in cash. When we've agreed on a price, we'll print all your free shipping labels so you can send off your He-Man collectibles.
We guarantee that your payment will be sent out within 2 business days of our receiving your package(s) at our warehouse. Getting the most money for your Masters of the Universe action figures couldn't be simpler!
How Much Do Masters of the Universe Action Figures Sell For?
Some of the rarest and most valuable Masters of the Universe figures could realistically be worth hundreds or thousands of dollars. It depends on factors like how well they are kept and what condition they're in. If you've kept yours in their original packaging and stored them well, they are more likely to keep their value or skyrocket in price.
Sell Your Masters of the Universe Action Figures Online at Sell Your Toys Now
At Sell Your Toys Now, we can help you turn your long-held collectibles into extra money. Reach out to our team today if you need help selling your Masters of the Universe action figures.
Written by: Cherilyn Lankin
Sell Your Masters of the Universe Action Figures at Sell Your Toys Now